Are you feeling overwhelmed by technology or facing technical challenges?
Look no further - "That Computer Guy" is here to make your digital world
simpler, safer, and more efficient!
Hours: Mon - Fri 10am to 5pm. - - -  Call now: 360-629-3295
🔧 Two Convenient Ways to Serve You 🔧
💼 Onsite Repair - I Come to You:
Experience the ease of having your tech problems resolved right where they occur, whether it's in your office or home. I provide onsite computer repair and assistance, ensuring your devices work seamlessly in their native environment.
🚗 Pickup and Drop Off - Hassle-Free Service:
For added convenience, I offer a pickup and drop-off service. Simply let me know when and where, and I'll come to you to collect your device. I'll take it back to my workshop for expert care, and once it's fixed, I'll return it to you in perfect working condition.
📍 Serving the Greater Area:
My services extend to Stanwood, Camano Island, Arlington, Smokey Point, Marysville, and surrounding areas. No matter where you're located, I'm dedicated to making your technology challenges disappear.
📷 Explore More Services:
In addition to computer repair, I also offer a range of creative services, including photography, video production, and web design. To learn more about these exciting offerings, visit my website:
🌐 Learn More: www.medialegends.com
At "That Computer Guy," your tech needs are my top priority. I'm here to simplify your digital world and provide solutions that work for you.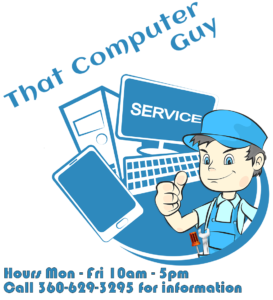 🖥️ About That Computer Guy 🖥️
🔧 Your Trusted Tech Expert Serving Stanwood & Camano Island Since 2003 🔧
👨‍💻 Who I Am
Since 2003, I've been dedicated to providing top-notch computer repair services to the Stanwood and Camano Island community. With a focus on assisting those who have little to no prior technology experience, I'm committed to making your tech life easier, one solution at a time.
🏢 Trusted by Businesses
Over the years, I've had the privilege of serving esteemed companies like Glacier Mouldings, JB Dolan Law Offices, Hamilton Lumber, N.W. Builders, and many others. My expertise in IT support and troubleshooting has been invaluable to local businesses, helping them stay productive and secure.
🏡 Helping Hundreds of Residential Clients
But I'm not just about corporate clients. I've also been privileged to assist hundreds of residential clients with their tech needs. From basic issues to complex challenges, I'm here to provide you with friendly, reliable, and affordable solutions.
💡 What I Offer
At "That Computer Guy," I offer a wide range of services to meet your diverse needs:
✅ Mac and Windows system cleaning
✅ Data recovery and backup solutions
✅ Cell phone repair and customization
✅ Technology consulting and advice
✅ Peer-to-Peer networking solutions
🤝 Your Technology Partner
I'm not just a service provider; I'm your technology partner. I take the time to understand your unique needs and offer personalized solutions that fit your budget and objectives. My commitment is to make technology work for you, not against you.
💬 Let's Connect
Ready to simplify your tech life or resolve those nagging IT issues? Get in touch with "That Computer Guy." Your tech challenges are my opportunities to shine, and I'm just a call away.
📧 Email: [email protected]
📞 Contact Me: [360.629.3295]
🌐 Visit My Website: [www.thatcomputerguyinstanwood.com]
Let's navigate the digital world together. Your technology journey starts here with "That Computer Guy."
🚨 Protecting Seniors from Scams 🚨
Are you or someone you know over the age of 65? It's crucial to stay informed about scams and fraud. Click below to learn what to look out for and how to safeguard yourself from scams.
🔒 Stay Informed, Stay Safe:
Being aware of common scams and their red flags is your best defense. Click here to empower yourself with knowledge and protect your financial and personal information.
📚 Learn More: Useful Tools to Keep You Safe
Your security matters, and knowledge is your shield against scams. Let's keep our senior community safe and informed!